Venue & Hospitality
Welcome to the Official Attendee Housing Site for the Global Summit and Expo on Healthcare, which will be held in the festival city of Dubai. The conference will take place in the following location & dates.
Al Ghurair Rayhaan by Rotana Omar Bin Al Khattab Street,next to Al Ghurair Centre P.O, Deira, Dubai, UAE.
Conference Dates: November 09-10, 2015
Hotel Services & Amenities
Audio/Visual Equipment Rental.
Business Center.
Business Phone Service.
Complimentary Printing Service.
Express Mail.
Fax.
Meeting Rooms.
Office Rental.
Photo Copying Service.
Secretarial Service.
Telex.
Typewriter.
Video Conference.
Video Messaging.
Video Phone.
ATM.
Baggage Storage.
Transportation
Driving Directions to
Dubai International Airport
Directions from Al Ghurair Rayhaan by Rotana - Dubai International Airport - UAE
Drive 5.8 km, 10 min
Al Ghurair Rayhaan Dubai - Omar Bin Al-Khattab Road
Follow Salahuddin Rd/D 80 to 1 C St
140 m / 21 s
1.Head north-east on Omar Bin Al-Khattab Rd/D 88
9 m
2.At the roundabout, take the 1st exit onto Salahuddin Rd/D 80
130 m
Continue to Al Jazira St
450 m / 1 min
3.Slight right onto 1 C St
69 m
4.Slight left towards Al Jazira St
350 m
Take Al Muraqqabat Rd and Airport Rd/D 89 to your destination
5.2 km / 9 min
5.Turn right onto Al Jazira St
110 m
6.Turn left onto Al Muraqqabat Rd
1.0 km
7.Continue onto 22 A St
550 m
8.Turn left onto Al Etihad Rd/D 74
120 m
9.Slight right
600 m
10.Take the slip road on the left onto Airport Rd/D 89
2.1 km
11.Keep right
750 m
Dubai International Airport - Dubai United Arab Emirates
Route Map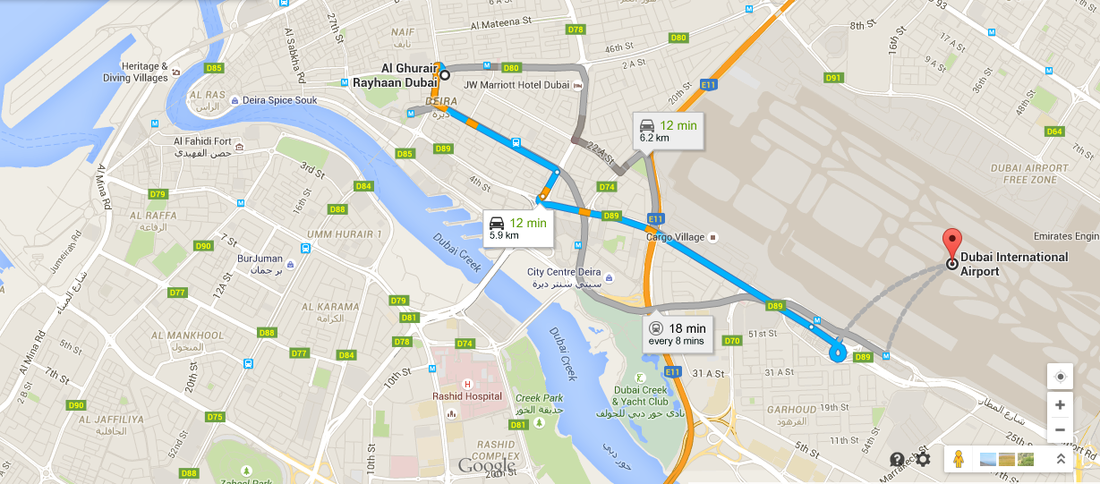 About City
About city
Dubai is a city in the United Arab Emirates, located within the emirate. The emirate of Dubai is located on the southeast coast of the Persian Gulf and is one of the seven emirates that make up the country. It has the largest population in the UAE (2,106,177) and the second-largest land territory by area (4,114 km2) after Abu Dhabi. Is one of the few cities in the world that has undergone such a rapid transformation - from a humble beginning as a pearl-diving centre - to one of the fastest growing cities on earth. Dubai today is a tourism, trade and logistics hub and has earned itself the reputation of being the 'gateway between the east and the west.' It is also considered as the dynamic nucleus of the Arabian Gulf region.
Home to just over 2 million people from more than 200 nationalities, Dubai is one of the most cosmopolitan cities in the world. Living in Dubai has a lot to offer. It is safe, politically stable, centrally located, and has a good education system and healthcare facilities, modern infrastructure and much more. The sun shines almost every day, the shopping and leisure facilities are impressive, and the salaries are tax-free.
Living in Dubai is exciting, something new and different happens ever so often. Just when you think you've seen it all, a new project is announced, whether it is the launch of a sports stadium, a mega commercial tower, a residential enclave or yet another shopping mall! Dubai is constantly on the move, striving for greater heights and more facilities and comfort for its residents and visitors.
Dubai is without a doubt a destination of the 21st century. Read any article about the fastest growing city in the region and it's almost guaranteed you'll see the words 'ambitious', 'record-breaking' and 'staggering'. This meteoric growth has not gone unnoticed, and each year thousands of expats arrive to claim a slice of the action.
Attractions & Landmarks
Attractions & Lanadmarks are Updating Soon...
---
Webinars & Conferences By Continents
Americas
Asia-Pacific & Middle East